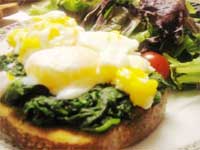 This recipe for eggs Florentine is apt for a brunch. It will serve two people. Have a look at the culinary tips!
Ingredients:
6 Eggs
1/4 Kg. Spinach
1/2 Onion
1 Tomato
1 Tablespoon of Pepper
1 Tablespoon of Fat Milk 1 Tablespoon of Mustard
3 Tablespoons of Butter
1 Tablespoon Taragon Sauce
Salt as needed
How to prepare?
* Heat butter on a pan in medium flame.
* Cut tomato and onion into slices and keep it aside.
* Once the butter gets melted, add spinach into it.
* Add sliced onion stir till it turns golden brown.
* Add tomato slices to it.
* Keep the cooked ingredients to a covered oven and season it with salt and freshly ground pepper.
* Add Taragon sauce.
* Add one tablespoon of fat milk.
* Crack the eggs into the dish and pour over the cream.
* Place the eggs over the oven and keep it there, till it turns golden and bubbling.
* Splutter mustard seeds in another oven and add to the above one.