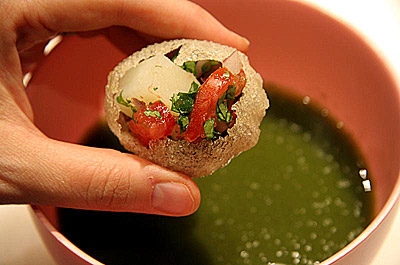 Ingredients
Puris:
Sooji (rava) 1 tbl spn
Oil
Salt
Pani:
Coriander leaves 3/4 cup
Green chillies 3-4
Ginger 2″ piece
Cumin(jeera) seeds 1 tea spn
Jaggery 1 tbl spn
Dates (Khajoor) 7-8 (I used 1 and 1/2 tbl spn of pitted ready to bake dates)
Tamarind extract(thick) 1 and 1/2 tea spn
Salt
How to make Pani Puri
Puris:
Mix flour, sooji and salt. Add sufficient water to make the dough. Keep it aside for half an hour.
Make small balls of the dough, roll it into tiny puris (make it to chapathi size and cut into small puris) and deep fry them in oil.
Pani:
Grind all the ingredients together to a thick chutney. This chutnet can be preserved for 2-3 days. While serving, dilute it with water to required consistency(do not make it too watery).
Stuffing:
Sprouted moong 1 cup
Onion (finely chopped) 1/2 cup
Sev 1/2 cup
Wash the sprouted moong to remove as much skin as possible. Then cook with 3/4 tea spn salt and about 3/4 cup of water. (Approximately two whistles in cooker).
Serve puris with pani, onions, sev and cooked moong.