atural and do not contain any sort of insensitive chemicals.
Perfect Hand Scrub –
Ingredients
½ cup sugar, ½ tablespoon lemon juice and 1 tablespoon honey
Method:
1. Heat the honey in microwave for few seconds. Now mix lemon juice, sugar and honey in a bowl and stir well. See that the mixture is not too thick.
2. Apply scrub on wet hands & rub all over for few minutes. Rinse well & see the magic.
Lip Balm –natural_cosmatics
Ingredients
8-10 drops of essential oil of choice, 1 tablespoon beeswax and 2 tablespoon petroleum jelly
Method:
1. Melt beeswax on low heat and add petroleum jelly and mix well.
2. Remove it from heat, add essential oil and stir.
3. Cool and use for soft and smooth lips.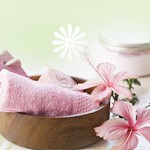 Hair Shine –
* Boil tea leaves and use this water to wash hair. Add lime juice in it to get shine.
* Apply mixture of white portion of eggs and beer on scalp and wash after an hour.
Facial Mask –
* Mix a teaspoon of cucumber juice, little turmeric powder and lime juice. Apply the mixture on face & neck and wash after half an hour. Get glowing skin.
* Apply mashed papaya or coconut water on face to clean skin & make it fair.
* Massage skin with unboiled milk daily.
Sunburn Cure –
* Apply Aloe Vera juice or Cucumber on sunburn area to get relief.
* Apply milk cream with tomato juice onto the burn & wash after 15 minute